Chronique Kinks : Compilation Coffret 6 CDs Picture Book ( 2008 )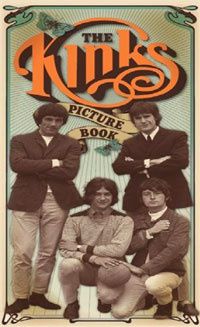 A partir du 8 Décembre 2008 est sorti au Royaume Uni un set de 6 CD des Kinks intitulé Picture Book Box Set. Compilé avec la supervision de Ray Davies, il contient 138 morceaux ordonnés chronologiquement, dont de nombreux morceaux jamais publiés, des prises alternatives, des démos et des classiques du groupe. Le coffret contient un booklet de 60 pages préfacé par Ray Davies aussi bien que des interviews de lui même, Dave et Mick et une biographie complète du groupe de la plume du très estimé rock critique Peter Dogget ( auteur également des textes des autres booklet du groupe, cela ne vous aura pas échappé ! ).
Bien qu'il s'agisse d'une dépense superflue pour quelqu'un qui, comme moi, possède d'une manière ou d'une autre ces morceaux, il s'agit de la dépense idéale pour d'autres qui n'oseraient pas acheter de leurs disques d'après 1969 ; de manière évidente, Ray a apporté son soin méticuleux à la sélection des chansons.
A titre personnel, je remarquerai surtout
l'inclusion des démos I'm A Hog For You Baby, I Believed You, Don't Ever Let Me Go ( pré-You-Really-Got-Me ), There Is A New World Opening For Me, Time Will Tell, A Little Bit Of Sunlight, This I Know, All Night Stand, And I Will Love You
. Toutes n'existaient qu'en pirate. Remarquables aussi les publications de
Misty Water, Lavender Hill, Rosemary Rose et Berkeley Mews
, difficiles d'accès jusqu'alors.
MON AVIS : la chose, qui coûte assez cher ( 60 euros ), vaut surtout pour ses 4 premiers CDs. Son principal problème est de n'être ni réellement adapté au fan ( qui par définition a toutes les chansons, sauf les raretés ) ni à celui qui veut découvrir plus en détail ( car justement quelques raretés émaillent le CD et faussent l'impression d'ensemble ). Il serait bon qu'une sorte de Great Lost compilant les impubliés sortent un jour, même si pour l'heure un Village Green Deluxe + un Picture Book résolvent quelques petites omissions…reste le livret pour décider les porte feuilles réticents…
Les Chansons
Disc 1
1. Brian Matthew Introduces The Kinks
2. You Really Got Me
3. I'm A Hog For You Baby (Boll-Weevils unreleased demo)
4. I Believed You (Boll-Weevills demo)
5. Long Tall Sally
6. I Don't Need You Anymore
7. Stop Your Sobbing
8. I Gotta Move
9. Don't Ever Let Me Go (unreleased)
10. All Day And All Of The Night
11. Tired Of Waiting For You
12. Come On Now Outake (with false start)
13. There Is A New World Opening For Me (Kassner Publishing unreleased demo)
14. Everybody's Gonna Be Happy
15. Who'll Be The Next In Line
16. Time Will Tell
17. Set Me Free
18. I Need You
19. See My Friend
20. Wait Till The Summer Comes Along
21. I Go To Sleep (demo)
22. A Little Bit Of Sunlight (Kassner Publishing unreleased demo)
23. This I Know (unreleased demo)
24. A Well Respected Man
25. This Strange Effect (BBC session)
26. Milk Cow Blues
27. Ring The Bells
28. I'm On An Island
29. Till The End Of The Day
30. Where Have All The Good Times Gone
31. All Night Stand (unreleased demo)
32. And I Will Love You (unreleased)
33. Sittin' On My Sofa
Disc 2
1. Dedicated Follower Of Fashion (alternate stereo take)
2. She's Got Everything
3. Mr. Reporter (unreleased Ray vocal)
4. Sunny Afternoon
5. I'm Not Like Everybody Else
6. This Is Where I Belong
7. Rosie Won't You Please Come Home
8. Too Much On My Mind
9. Session Man
10. End Of The Season
11. Dead End Street (unreleased 1966 Shel Talmy version)
12. Village Green
13. Two Sisters
14. David Watts
15. Mr. Pleasant
16. Waterloo Sunset (mono mix)
17. Death Of A Clown
18. Lavender Hill
19. Good Luck Charm (unreleased BBC recording)
20. Autumn Almanac
21. Susannah's Still Alive
22. Animal Farm
23. Rosemary Rose
24. Berkeley Mews
25. Lincoln County
26. Picture Book
27. Days
28. Misty Water
Disc 3
1. Love Me Till The Sun Shines (BBC session)
2. The Village Green Preservation Society
3. Big Sky
4. King Kong
5. Drivin'
6. Some Mother's Son
7. Victoria
8. Shangri-La
9. Arthur
10. Got To Be Free
11. Lola Mono Single Version
12. Get Back In The Line
13. The Moneygoround
14. Strangers
15. Apeman
16. God's Children
17. The Way Love Used To Be
18. Moments
19. Muswell Hillbilly
20. Oklahoma USA
21. Twentieth Century Man
22. Here Come The People In Grey
Disc 4
1. Skin And Bone
2. Alcohol (live)
3. Celluloid Heroes
4. Sitting in My Hotel
5. Supersonic Rocket Ship
6. You Don't Know My Name
7. One Of The Survivors
8. Sitting In The Midday Sun
9. Sweet Lady Genevieve
10. Daylight
11. Mirror Of Love
12. Artificial Man
13. Preservation (US single version)
14. Slum Kids (Live)
15. Holiday Romance
16. Face In The Crowd
17. No More Looking Back
18. Sleepwalker
19. The Poseur
Disc 5
1. Sleepless Night
2. Father Christmas
3. Misfits
4. A Rock 'N Roll Fantasy
5. Little Bit Of Emotion
6. Attitude
7. Hidden Quality (unreleased)
8. A Gallon of Gas (unreleased edit)
9. Catch Me Now I'm Falling
10. Nuclear Love (unreleased)
11. Duke (unreleased)
12. Maybe I Love You (unreleased)
13. Stolen Away Your Heart (unreleased)
14. Low Budget (live)
15. Better Things
16. Destroyer
17. Yo-Yo
18. Art Lover (unreleased mix)
19. Long Distance
Disc 6
1. Heart of Gold
2. Come Dancing (unreleased demo mix)
3. State Of Confusion
4. Do It Again
5. Living On A Thin Line
6. Summer's Gone (extended mix)
7. How Are You
8. The Road
9. Million Pound Semi Detached
10. Down All The Days (To 1992)
11. The Informer
12. Phobia
13. Only A Dream
14. Drift Away
15. Scattered
16. Do You Remember Walter (To The Bone live version)
17. To The Bone (unreleased demo)